Voter Registration and Election Information

Check your voter registration status and locate your polling place here
Virginia requires Photo ID to vote- full list of acceptable ID is here
Find contact information for your Virginia and Federal elected officials here
Reasons you are allowed to vote absentee are listed here
Apply online at www.vote.virginia.gov to have a ballot sent to you.
More detailed information is available at each County's website:
Office of Elections
750 Miller Dr. SE, Suite C
Leesburg, VA 20175
703-777-0380
vote@loudoun.gov
Monday thru Friday, 8:30am - 5:00pm

Registrar's Office
101 Chalmers Ct.
Berryville, VA 22611
(540) 955-5168
vote@clarkecounty.gov
Monday thru Friday, 8:30 a.m. - 4:30 p.m.
Voter Registration Office
107 N. Kent Street, Suite 102
Winchester, VA 22601
540-665-5660
fcvotes@fcva.us
Monday thru Friday, 8:30am to 5:00pm


2019 HD-33 Election Results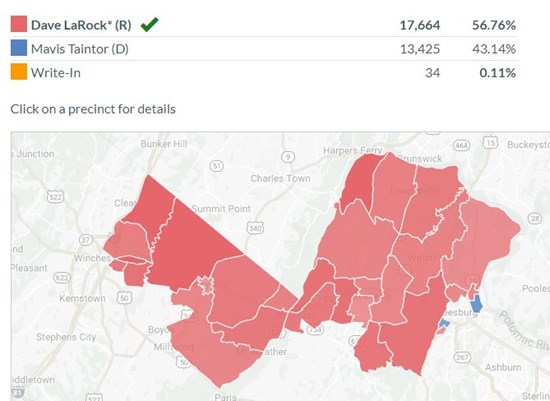 33rd District Election Day Polling Places
The 33rd District stretches from Leesburg to Winchester, and includes the following precincts:
*New poll location for 2018