News
Friday, September 29, 2017 10:22 PM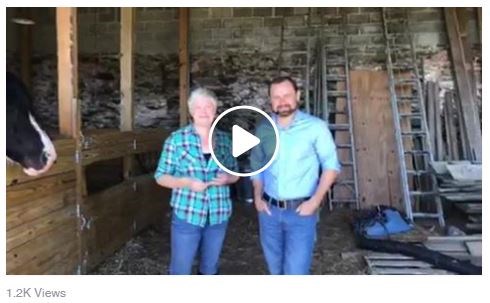 My opponent out-raised me nearly 3:1 last reporting period, and we can't allow that to continue. I've been working hard, visiting constituents at their homes and hosting events in our communities, but I need your help before Saturday at midnight, when the last meaningful fundraising deadline arrives.
---
Monday, September 25, 2017 4:58 PM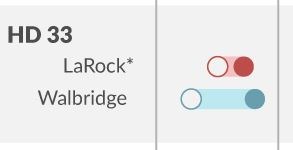 We are about 6 weeks from Election Day and I want to share with you what I see shaping up. You may have heard that the Democrats pulled out all the stops trying to win recent special elections around the country. It's pretty clear what is happening here in the 33rd District and across the Commonwealth of Virginia.
---
Wednesday, September 20, 2017 1:02 PM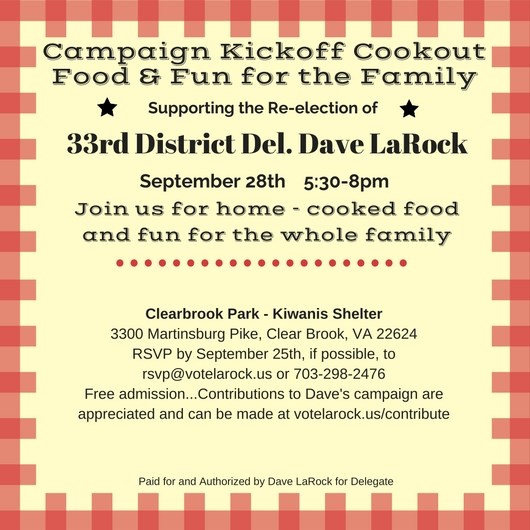 I hope to see you next Thursday, Sept. 28th, at my Frederick County Campaign Cookout! Please come and enjoy good home-cooking. We had a great turnout in Berryville on the 7th, and are looking forward to an even bigger crowd in Frederick County! If you haven't already done so, please RSVP to help Joanne plan on how much homemade oven-baked BBQ chicken to make!
---
Tuesday, August 22, 2017 4:52 PM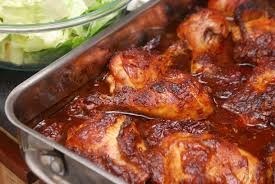 Time flies. In just about 75 days we'll choose a team of leaders for Virginia. To win, I need your support. We are hosting two family events; one in Clarke County and one in Frederick County.
At the Clarke County Kickoff, Delegate Michael Webert has agreed to join us. Del. Webert (R-18th) manages his family's farming operation in northern Fauquier. Also, I'm glad to let you know, one of the founders of CFACT, Craig Rucker, will be with us as well. Craig and his team at CFACT recently released the documentary, Climate Hustle.
---
Thursday, July 27, 2017 4:29 PM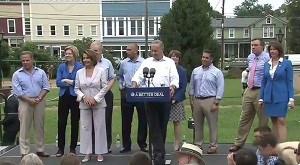 This week, national Democrat leaders came to Berryville and gave a shout-out to my opponent, who was there supporting their liberal agenda. Their flawed answer is more government, more taxes, less freedom. History makes it clear government intrusion stifles the economy. A $15/hr. minimum wage, more federal government meddling in health care and higher education, and other liberal ideas won't bring economic growth.

Instead, I and other Republicans support reforming taxes, regulations, education, and more to improve our economy and opportunity for all Virginians. Earlier this week, I received a 100% rating from the NFIB. The differences between my opponent and me are clear.